---
Need some help logging in to your Ailo Account?
These are the steps to follow: 
✅

Open the Ailo app on your phone.

✅

Enter your email address (this is the email address your original Ailo invitation was sent to) and tap Continue.

✅

Ailo will then send you an email containing a Temporary login code.
Note: You may need to check your spam folder if the email doesn't appear.

✅

Open your email and retrieve your 6-digit code.

✅

Enter the code into your Ailo app and tap Sign in.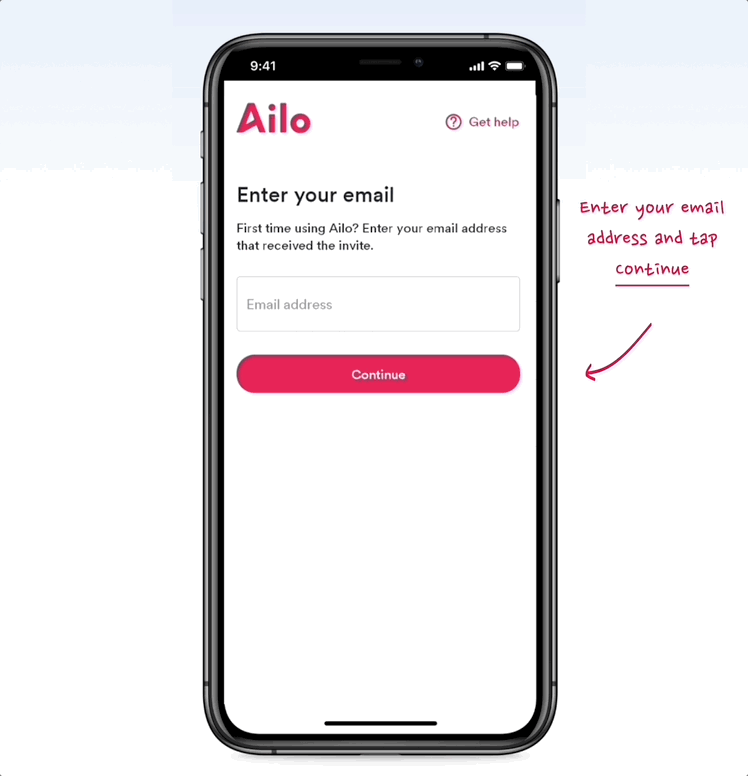 No luck? Check our Ailo status page
When we are aware of anything that might change users' ability to access Ailo, we'll post it here. 
If all systems are operational, and there is no scheduled maintenance listed on the status page, check out the FAQs below - you're also welcome to reach out for further assistance from our Ailo Support Team.
Login FAQs
Why do we use a temporary login code?
Ailo uses these to further enhance your security. The code is a single use code which is sent to your email address for you to use each time you login to Ailo. This enables users to log in without the need to use long, complicated passwords which are often re-used between systems.
Can't find your temporary login code?
Check your spam folder or hit "Resend my code" in the Ailo app. 

If you have entered a work email address, the email containing your code may have to pass through additional workplace security before arriving in your inbox - this delay can result in your code timing out. In this instance, speak with your Property Manager about changing to a personal email address.
Ailo doesn't recognise your email?
It could be a simple spelling or formatting error. If you're sure you have correctly entered the email that should be associated with your account, contact your Property Manager - they can arrange for your email to be updated.
How do you get an Ailo account?
If your property manager has partnered with Ailo, you will receive an email invitation soon with directions on how to download the app and set up your account. If your property manager is not on Ailo, ask them to get in touch with us to learn more about the benefits! 
If you continue to have any issues, contact our team for assistance.
---
v.2023.07.20