We believe you should have more choice in how you pay your rent and any bills associated with renting. You can make payments with your Credit card, Debit card, or through your chosen bank account.
In this article:
Fees
Basic rent transactions, like one-off transfers from your bank account, cost nothing. Where we charge fees, they are small and transparent, and you will always have a fee-free method of paying rent.
The service fee is calculated as a percentage of the total transaction. For example, if you pay $400 rent by direct debit the total debited amount will be $401, which includes a $1 service fee.
See the table below for a breakdown of processing times and fees: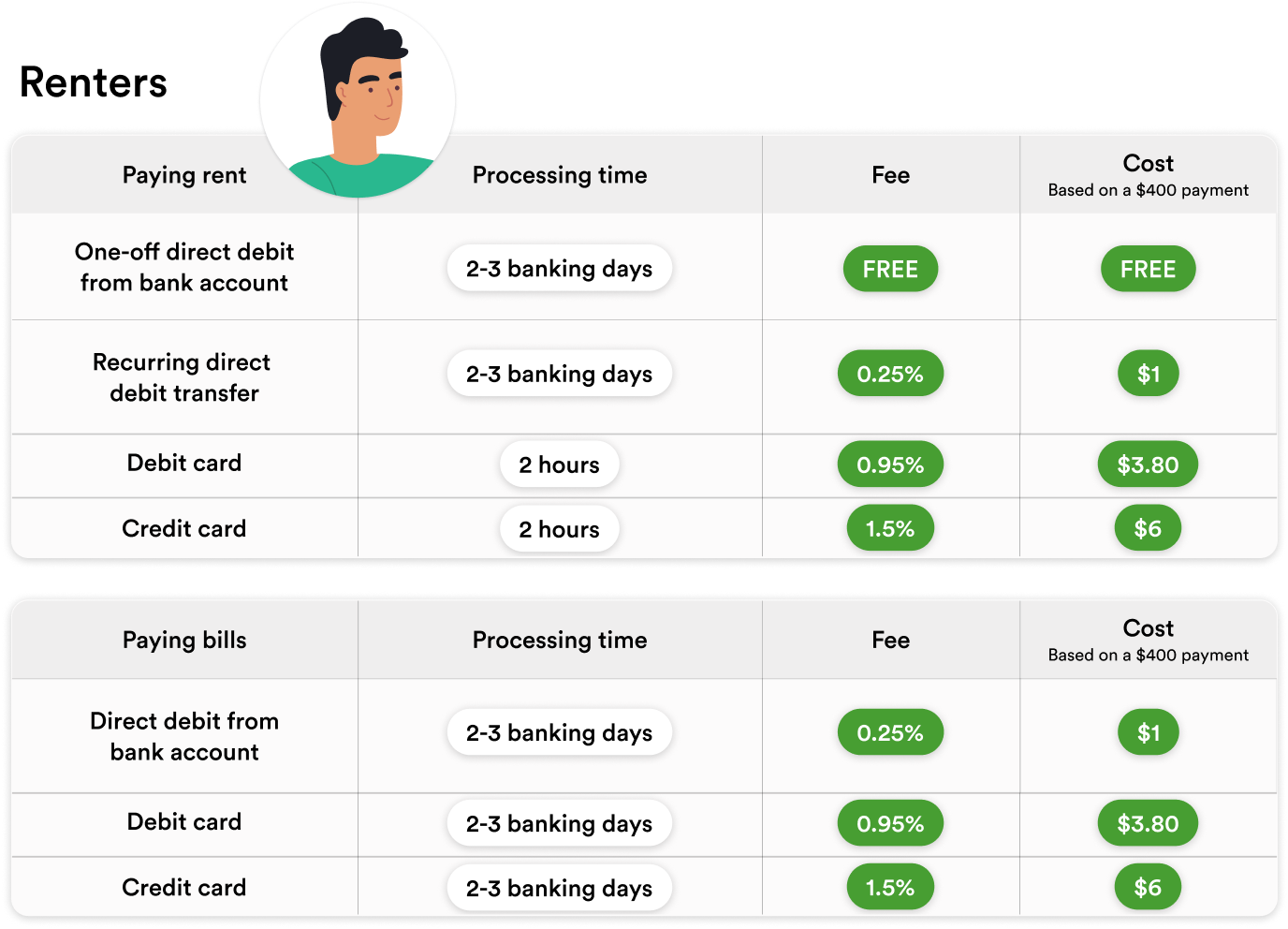 Important Note: We are currently reviewing our payment methods for bills, and as a result have placed a waiver on all service fees for bill payments for the time being.
Fee free way to pay rent
Ailo will always offer a free way to pay your rent. Simply log into your Ailo app, and make a one-off transfer (payment method) from your bank account.
Here's how:
On the Rent tab, select Pay rent.
If you have previously set up a payment method, select Change for the payment method. Otherwise, skip this step.
Select Other payment method and One-off transfer.
Enter your details (Account name, BSB number, Account number) before tapping Add Bank Account. If your account number has 5 digits, add a 0 before the first number. Note, your payment method will not be saved
Select Pay
This will be a one-off payment and you will need to repeat the process to make future fee free rent payments.
Concession card holders
If you hold any of the below concession cards, you are able to apply for a fee waiver by simply contacting the Ailo Support Team.
Department of Veteran Affairs (DVA) Gold Card

Pensioner Concession Card

Low Income Health Care Card

Commonwealth Seniors Card
The team will set you up on a direct debit straight from your bank account and waive the fees for you.